A multi-agency campaign led by the West Midlands Police and Crime Commissioner, West Midlands Police and victims' services has been launched to give information to the public around what services are available to victims of domestic abuse and to emphasise  that support is available to those in need whilst coronavirus continues to present new challenges.
The #NoExcuseForAbuse campaign, supported by the police, health, local authorities and domestic abuse specialist agencies aimed at providing those who are victims of domestic abuse with the right information on how to get help and end the abuse they are suffering.
Throughout the campaign, digital advertising will be on display at over 20 major supermarkets right across the West Midlands along with a social media campaign and new information about the services in the West Midlands that are there to support victims of domestic abuse.
Domestic abuse has often been seen as a 'hidden crime', one which is underreported to the police and is a lot more widespread than figures suggest. One of the objectives of the campaign is to highlight that this kind of abuse is never acceptable and that help and support is available to those who are suffering.
However, with the coronavirus outbreak and more people spending more time in their homes, calls around domestic abuse have fallen, raising concerns that there are many people suffering in silence.
The West Midlands Police and Crime Commissioner, David Jamieson said:
In these very difficult times it is vital that those that are suffering in their home know that help is out there.

It can be very difficult to speak out and report domestic abuse and there are a wide range of services across the West Midlands who are on hand to speak to and help those who are victims.

I want to make sure that those who are victims of domestic abuse have the right support they need and whilst the coronavirus presents challenges to us, these services are still very much available and there to help those in need.
Support for victims can range from counselling to emergency accommodation as well as legal help and wraparound help for families and help is offered by organisations including Women's Aid and The Haven.
Maureen Connelly, Chair of the West Midlands Domestic Violence Consortium said:
We know that domestic abuse is on the rise and that domestic abuse helplines and support services have seen a significant increase in demand for services. The Specialist Domestic Abuse Consortium welcomes the West Midlands Police and Crime Commissioner's campaign.

We recognise that the national lockdown is important to save lives.  However, we need to remember that home is not a safe place for victims of domestic violence. We are asking everyone to look out for friends, family and neighbours and to report domestic abuse.

Women and Children should know that if they are uncomfortable and/or scared of someone they live with, that home does not feel safe, we are there for them.
West Midlands Police are continuing to tackle domestic abuse with more than 400 people being arrested in recent weeks.
Deputy Chief Constable, Louisa Rolfe added:
At home shouldn't mean at risk. If you or someone you know is suffering from domestic abuse, isolation rules do not apply – you can get away from the abusive relationship and leave home to find help.

We are responding to reports of domestic abuse and have recently run a planned operation to arrest suspected offenders. Support services are there to help. Although people might feel isolated, they are not alone.
The Victims' Commissioner for England and Wales Dame Vera Baird QC said:
I'm pleased that the West Midlands PCC is sending out a powerful signal that police will respond strongly to domestic abuse, and there are services available to support victims.

I say to victims – you are not alone. Do not doubt it. We know the virus and isolation makes things 10 times worse, so this is a clear declaration that services are there to help.

And I say to perpetrators – stop it now. The police are still working, the courts are still working, and the law will deal with you harshly, as it understands the extra vulnerability of victims during lockdown.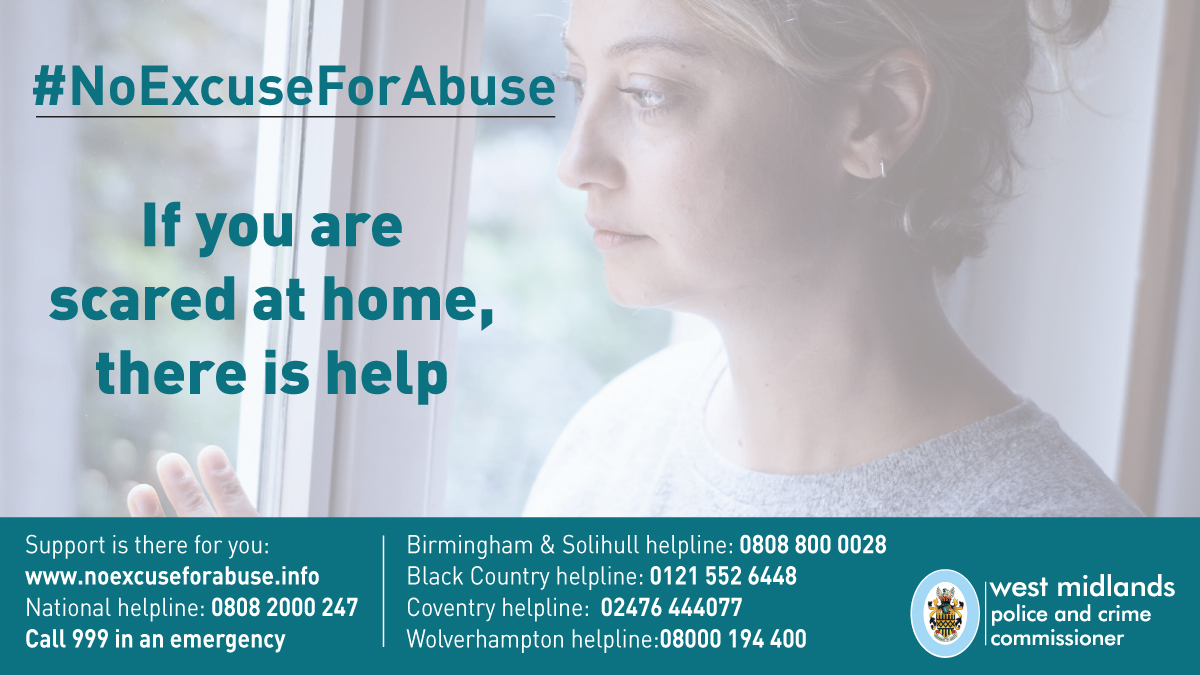 The Pioneer Group takes concerns of domestic abuse very seriously and work closely with West Midlands Police to ensure all of our tenants are safe. Residents are always welcomed to contact the Neighbourhoods team at The Pioneer Group on 0121 748 8100 to talk to someone about a concerning home situation.